Senior Care Staffing Servicing Newfoundland & Labrador
Are you a health care professional looking for an opportunity to make a difference in the lives of others? Plan A Newfoundland & Labrador is searching for dedicated and compassionate individuals such as registered nurses, licensed practical nurses, personal support workers, and nursing students who want to join our team. Together, we can help our long term care and retirement partners with their staffing needs!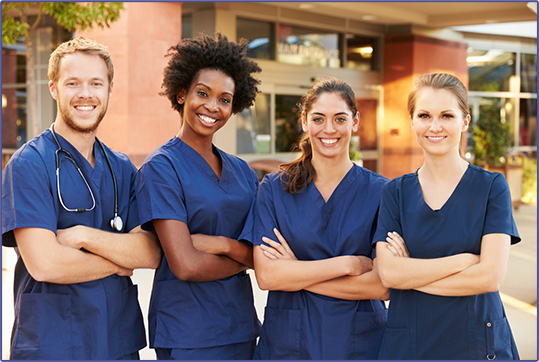 PLAN Newfoundland & Labrador IS CURRENTLY HIRING
Registered Nurses
Licensed Practical Nurses
Personal Support Workers
Nursing Students
WHAT WE OFFER
You take care of our most vulnerable, so we want to take care of you!
At Plan A, we offer something extra. We recognize the importance of balancing work and life. We value your time and encourage you to take the reins of your career while enjoying what you love to do.
It's time to kickstart your career!
Meaningful Employment
Competitive Wages
Employee Perks
Flexible Schedule
Work-Life Harmony
Supportive Management
Newfoundland
Annie Morin & Nadia Morin
" Annie and Nadia are passionate and caring individuals who are committed to helping clients grow and succeed! "
Born in a Northern Ontario community, this dynamic sister duo has a drive for collaboration, an enthusiasm for service excellence and critical thinking abilities to support colleagues, partners, and clients.
Annie spent most of her 20-year career providing social and employment assistance, community development, project coordination and advocating for underrepresented voices. Devoted to a life of service, Annie found her North Star when she joined the Plan A vision in 2019. She is dedicated to her mission of providing sustainable staffing solutions to the Long-Term Care sector by connecting thoroughly screened health professionals to support their partnered homes in need. She is a strategic leader with a strong commitment to community partnerships.
Some of Annie's most noteworthy accomplishments include her leadership role as the Chair the Health & Wellness Committee, President and Chief Steward of her Union's local, Advisor of the "I Wanna Feel Good" Conference Steering Committee and Winner of the 2016-17 Rise Award in the category of 'Connecting and Engaging'.
Nadia obtained a Bachelors' Degree at Laurentian University and then pursued her studies in Speech Language Pathology and Audiology as a Communicative Disorders Assistant. She then furthered her education as a Registered Massage Therapist and as a Yoga & Pilates teacher.
Education, Business and Health has been in the forefront of Nadia's goals and dreams for the past 25 years. She spent most of her career in Ottawa working in International Education as a Director of Corporate Affairs. Since her return to Sudbury over 10 years ago, Nadia has been the owner and operator of "For a Better Tomorrow" delivering services as a business consultant, as a health care practitioner and as a community college professor.
Nadia truly believes that her career path and her personal development have fully prepared her to be an owner of Plan A Halton and Newfoundland Labrador. Her strength lies in her ability to assess needs, brainstorm possible solutions and to positively navigate through challenges. What she appreciates most about this journey is the feeling within when aligned with her own purpose and being part of a team that serves a "greater good". She feels fulfilled in her responsibility to provide individuals with employment, and honored to be part of a collective leadership group that ensures the wellbeing and loving care of our most vulnerable population.
When Annie and Nadia are not passionately involved in a new business venture or project, they like to practice yoga/meditation, take walks in nature, travel and spend time with their families. Their mission is to extend their dream of finding a perfect work/life balance for her team and LTC partners.
---
---
Plan A Newfoundland
(Mobile Office)
Get in touch
289.670.7526
---
© Plan A Powered By StaffStat. All Rights Reserved.