Senior Care Staffing Servicing Brampton
Are you a health care professional looking for an opportunity to make a difference in the lives of others? Plan A Brampton is searching for dedicated and compassionate individuals such as registered nurses, registered practical nurses, personal support workers, and nursing students who want to join our team. Together, we can help our long term care and retirement partners with their staffing needs!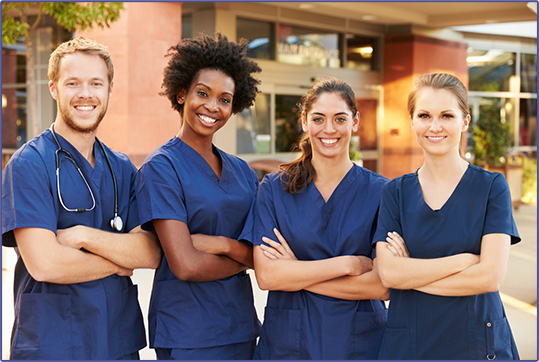 PLAN Brampton IS CURRENTLY HIRING
Registered Nurses
Registered Practical Nurses
Personal Support Workers
Nursing Students
WHAT WE OFFER
You take care of our most vulnerable, so we want to take care of you!
At Plan A, we offer something extra. We recognize the importance of balancing work and life. We value your time and encourage you to take the reins of your career while enjoying what you love to do.
It's time to kickstart your career!
Meaningful Employment
Competitive Wages
Employee Perks
Flexible Schedule
Work-Life Harmony
Supportive Management
Brampton
Jill & Ted Wismer
Jill and Ted have a wealth of experience in business, nursing, and the LTC sector. They have a passion for helping and lending a hand to those in need. They have a young family that keeps them busy running from the arena to the barn, and all points in between. In the summer months, they are avid boaters and enjoy the outdoors with family and friends.
Jill brings an abundance of experience in LTC, having literally "grown up" in the industry. From her childhood memories of visiting her mother's work and having residents read with her, to her most recent position as an Administrator of a LTC home, Jill has a passion for caring and helping the residents — this has truly been a driving force throughout her career. She began working in the industry as a teenager as a Dietary Aide, and graduated the RPN program at Durham College. She began working in children's rehabilitation, but found she was missing her calling and needed to return to Long Term Care in the nursing department. She progressed through a variety of roles from RPN, to staff educator, and Co-Director of Care. Jill then moved on to external roles in sales and service of mobility equipment and pharmacy services in the LTC sector. She again missed the hands-on role within the homes and returned to the role of Administrator. She decided to become an owner of Plan A Brampton and Plan A Hamilton after realizing her education, experience and values aligned with the Plan A vision.
Ted began his career working in the corporate world, and worked a variety of roles from recruiting to account management and sales. In 2001 he left the corporate world and ventured on his own into the construction sector. Beginning with small projects, his business progressed into large scale commercial and residential builds throughout Ontario working in partnership with various industry leaders and pioneers. With a solid reputation of providing quality, honesty, and passion in each project, demand grew to a national level with his company having completed projects from Halifax to Edmonton, and all points between. During this time, Ted has successfully navigated through an ever-changing environment with increased emphasis on productivity and health and safety. He has learned that building relationships is sometimes more important than the actual build. Ted looks forward to continuing to use this notion when building relationships with LTC partners in the Brampton and Hamilton regions.
Servicing the following Brampton communities:
---
Caledon
Bolton
Orangeville
Shelburne

---
Plan A Brampton
(Mobile Office)
Get in touch
905.531.7526
---
© Plan A Powered By StaffStat. All Rights Reserved.